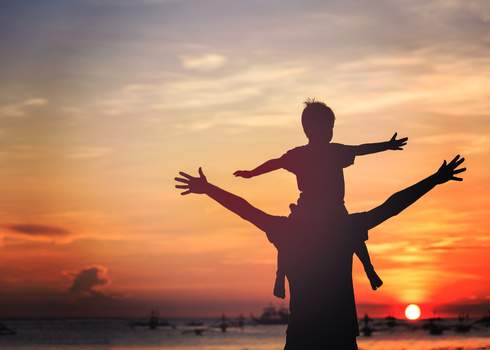 Life almost never goes the way the way you expect. Even less often does it go the way you want. And in near impossible instances does life find a way to overwhelm even your most perfect imaginations and provide you with something you in no way deserve. And yet...that's exactly where I find myself. Each morning I wake up wondering if my luck has run out yet, and though it still might some day, in continues to surprise me to the point that I'm confident that this life God has blessed me with is not only the perfect life for a boylover, but the perfect life for me.
Here's how God works. First you ignore him. You don't want to believe that someone else is in control of your life. You come head first with a problem and want to tackle it all on your own. So he waits. You try to cope with being a boylover. You try to build an understanding of the world around you that accepts you for who you are. You try to find boys to become friends with. You try to fight back any unsavory desires. And try as you might, though fragments of your dreams may come to light, you're always left wanting more, unsatisfied by what you've been able to scrounge together. Little by little you fight for scraps of happiness and against the seemingly expanding gaps between each one, slowly being broken down while you watch those around you find the love and happiness that seems impossible for yourself. Years of this prove a struggle too insurmountable, and you find yourself lost, trying to save a sinking ship with a small pail. Only then, when it all seems lost, when you have no strength left and nowhere left to turn, only then do you humble yourself and beg anyone, even God for help. And only then when you finally accept that you truly need Him, He reaches down his hand and guides you through. After you've spent a lifetime exhausting every single option possible, proving them each fruitless one by one, after you've accepted all hope is lost does God reveal himself. And with Him, He brings the most amazing solution, the only ever true answer to your prayers. The one you never thought of. The one you never knew was an option. Only then, when it's impossible to mistake this miracle from God as anything but just that, does he put his plan into motion.
I never want to brag about what He's given me, only to share it, to glorify all he's given me, and all he can give you. I have an amazing job that I can happily go into every morning knowing that I'm making the world a better place. I have a loving family all around me, many within walking distance of my recently bought condo. I'm part of a small but incredibly loving church who leans on me as much as I lean on them, who appreciate me as a strong light to their children. I have an ever growing list of friends all over the world and neighborhood who know my deepest truths and love me even more for it. I have plenty of young friends near and far whose parents encourage our beneficial friendships. I even have three kids of my own. Or at least it feels that way.
These boys are the brightest joy in my life. They have given me a purpose and a love I never thought possible. They have no father, an overworked mother,a hole in their hearts, and smiles warm enough to melt my world. The middle one stays with me during the week so I can help him with school and get him there on time. The little one stays with me on weekends so we can go to church and lunch and enjoy not-exactly-father/not-exactly-son bonding time. The oldest visits often after work to relax and enjoy the company. Almost overnight I've become a part-time father. I've got the parental duties of feeding them, making sure they stay clean, helping with homework, putting them to bed and driving them to and from everywhere they need to go. It is exhausting, all consuming and everything I always wanted.
Fueled by smiles, hugs and love I can never get enough. It's incredible when, half in jest, my family and friends call them my kids, or refer to me as dad. I went to the oldest one's high school graduation and help him buy a car. I got to take the little one out trick-or-treating in our combo monkey costumes. We cuddle when he's cold, tired, or anytime he feels like it. When he stays over he's afraid of sleeping alone and makes sure to turn on the rubber ducky nightlight before snuggling up next to me in my bed, . The middle one and I have a unique best-friend relationship built on respect and trust. He's my roommate during the week and no matter what we're doing, just being together is enough to keep us happy. He's not afraid to share stories about the girl he likes and I proudly dropped him off at his first dance. He continues to dig deep in his past, sharing tales both of happiness but often of tragedy. Times when his cousins got him drunk when he was only ten. Or when his father became physically abusive and hit him when he was only seven. Stories like these hurt my core, make my cry, but also love him even more for how strong he's become even after all he's been through. When he fractured his foot I got to take him to the ER and wait with his little brother while he got checked out. Recently we celebrated his birthday and though he's a teenager, he wanted to spend the entire day with me, just the two of us. We slept in, he in his own room at my place, we ate at some of his favorite restaurants and went to the movies ending our day with a loving hug.
While these boys may not be my own blood, or my own children legally, they are at heart. I love them each with all I have to give and all I do is for them. This new found purpose is the main reason I haven't posted in some time. I've much less free time or privacy these days. But also, I created this blog as a way to share my secret feelings and struggles instead of bottling it inside. But now, not only do I have friends to confide in, I have children to love in a way I never knew was possible. Years ago when I used to cuddle with my first love Caleb my body would respond sexually, in a way I was ashamed of and was unsure how to cope with. But now, by the grace of God, that's never a problem. I'm able to hug and love my boys purely and without any internal or sexual struggle. Everything has simply fallen into place and for that I'm eternally grateful.
This life that God's given me is a beautiful miracle better than I ever could have imagined. It's a story I wish I could share with everyone and perhaps one day I can. But until then I'm compelled to share it with all my boylover friends out there and to all who read this. There is a hope for us. There is a miracle out there waiting for you first to humble yourself. It may take some time, and it probably won't look exactly like mine, but God has crafted one especially for you. I've always wanted to be a father but never thought I'd have kids. I have no interest in women or men for that matter. I work too many hours to be a proper single parent, nor do I currently have the money to adopt. And yet the Lord found the missing pieces to my puzzle that I never knew existed. Now, not only do I have one child, but three wonderful boys! It really is a story too bold for fairy tales yet here I am, a living contradiction to that farce. So whether you believe or not, I want to openly thank God for all that he's given me. It's a blessing I don't deserve, and one I'd never want to fail to share. Because he's given me a joy I never thought was possible. But I'm here to promise you...it is.